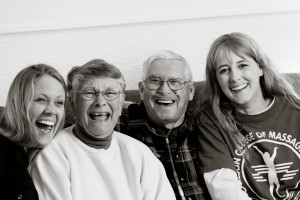 This Crazy Beautiful Love story is about these two beautiful souls in between my sister and me (I'm on the left).  Meet my Gramz & my Grampz Jones!  Meet my sister Dessa, too…she's pretty awesome herself!  😉
This is where the Crazy Beautiful Love Story of my Gramz & Grampz Jones begins!  Crazy Beautiful Love is what my Gramz & Grampz had together in this physical form for 44 sweet years.  Luckily I had the opportunity to witness their Crazy Beautiful Love for 34 years of my life!  Gramz got pregnant with my beautiful Mother at the young age of 14 and got married.  My beautiful Mother, Karen received three younger siblings Kathy, Kevin and Kendall before her biological father had a sudden heart attack and made his transition into non-physical form when my beautiful Mother was only 10 years of age.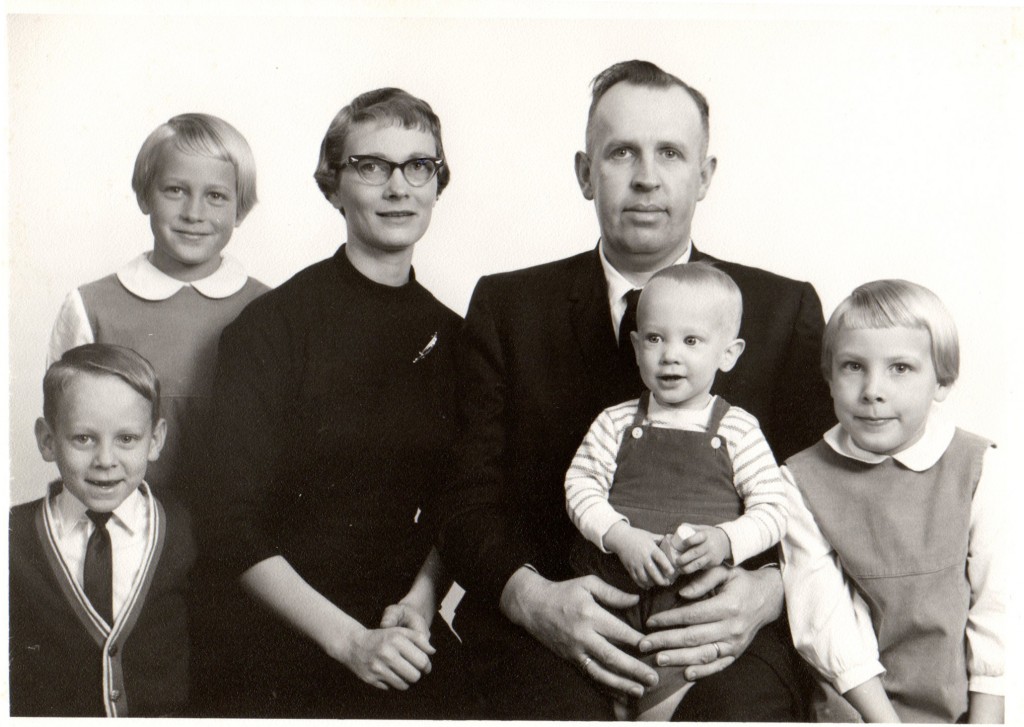 Above is a photo of my Gramz, her first husband (my biological Grandfather) and the four K's Karen (my beautiful Mama…top left) and her siblings Kathy, Kevin & Kendall.
When Gramz &Grampz met, Grampz also had four kids from his first marriage Randy, Robin, Rod & Rusty.  The Brady bunch had nothing on this Crazy Beautiful Love Story!  Gramz & Grampz stayed together through the good times and the not so good times.  They were always together, they held hands often, and it was always a treat to witness them together on the dance floor.  Gramz ran the show and did most of the talking.  Grampz was full of patience, love and admiration for Gramz.  Until the very end she called him 'Dad' from the early days when they were raising 8 beautiful children together.  I would often see them sneaking kisses.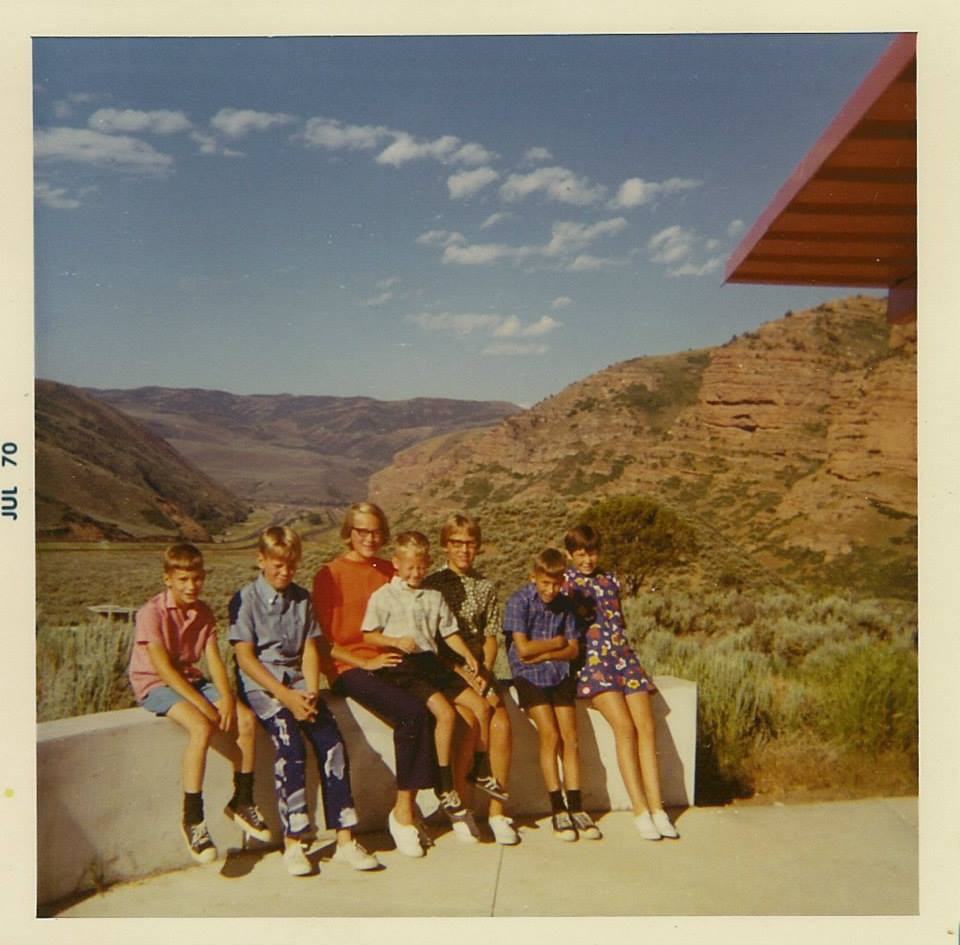 In the photo above you see all 8 children my Gramz & Grampz Jones raised! I believe they were on vacation in this photo.  I can't even imagine what it would have been like to have 7 siblings in the same household?!?!  Crazy Beautiful Love.
Toward the end of 2011 Grampz was diagnosed with pulmonary fibrosis and was given approximately 2 years to live.  Over the past two years he lived happily with the love of his life, my Gramz but with the added presence of his oxygen tanks.  Gramz's health also started to decline over those years.  I believe she was slowly dying of a broken heart.  When Grampz made his transition to non physical, Gramz had been getting extremely weak.  She ended up in ICU for 6 days following Grampz's transition to non physical.  We waited to have Grampz's funeral, as we all knew Gramz needed it more than anyone else.  She was slowly starting to improve and was transferred to Independence to the rehab center for recovery.  She was still weak, but we had been told she would recover.
The night before Grampz's funeral I spend some time with Gramz and she was talking about the condo that she was in the process of purchasing.  She kept asking me what I was up to and we laughed about the last time I spent over night with her in the hospital the previous winter when she was sick.  We always shared amazing laughter, the kind in which we laugh so hard our stomachs hurt when we were together, even when she was in the hospital.   I left Gramz that night expecting her to get a good night's sleep so she could make it to her second husband's funeral the following day.  Very early the next morning I got a call from my beautiful Mother telling me Gramz's body was shutting down and that she wasn't going to pull through. I truly believe Gramz didn't want to be here without her life partner.  Almost exactly 24 hours after Grampz's funeral began, Gramz joined him in non physical.
Crazy. Beautiful. Love.
And here is where my photography comes into their Crazy Beautiful Love story…
One time during a visit with them Gramz said that Grampz was mad at her for not holding hands before they fell asleep the previous night.  It melted my heart.  In that moment there was a knowing that I would somehow convince them to allow me to photograph their Crazy Beautiful Love.  I just had NO IDEA how powerful those photographs would turn out to be for all who had the pleasure of knowing them in these physical bodies, especially me and my beautiful family!
Gramz & I had talked about the idea of a photo shoot with the two of them.  She agreed and said it would be a good idea, but I had mentioned it to her after our conversation a few times and she wasn't as excited for the photo session as I was hoping.  September 19, 2012 was a magical day that I will never, ever forget.  The summer of 2012 was a hot one, but on this September day there was finally a break in the squelching heat.  It was refreshing and my schedule happened to be open this day, so I decided to call Gramz & Grampz to see what their day had in store.  I knew the break in the the heat would allow for Grampz to be outside for their 'Love Birds' photography session.  Gramz answered the phone and told me they didn't have any doctor appointments.  She knew I was up to something calling out of the blue like I did.  I then informed her that they had no choice in this matter and that I would be home in a few hours for their shoot.  She reluctantly agreed I told her solid color clothing is best for photos, no writing or busy patterns.
When I got to the house I found them to be wearing matching outfits!  Gramz even pointed out the fact that they both had black socks and black shoes on.  I adore my Gramz & Grampz so much, but to see them matching on this day was the most adorable!!  I gave them hugs, we waited for my beautiful niece Kylee to get dropped off so she could be my assistant for the shoot and hold my soft box for me when needed.  We had the most beautiful day, the skies full of magical clouds.  Crazy Beautiful Day to capture this Crazy Beautiful Love!   These images were captured 11 months before they made their transition into non-physical.  Had I not gone and taken these images, we wouldn't have these beautiful photos to cherish and help document their Crazy Beautiful Love Story.  At the funeral home they had a slideshow of photographs, many of which were the photographs I am sharing with you here.  During Gramz's funeral the nice man who did the service stopped in the middle of the service and said  'Wow, and whoever took those photographs of Rex & Carolyn…Wow, they are just incredible.'   Everyone turned and looked at me…I get emotional just thinking about the power of these images.  I am BEYOND grateful that I followed my intuition and called Gramz to do the shoot.  They were also VERY VERY pleased with their images and thanked me often.  I will quit rambling and share a few of the images from their shoot with you!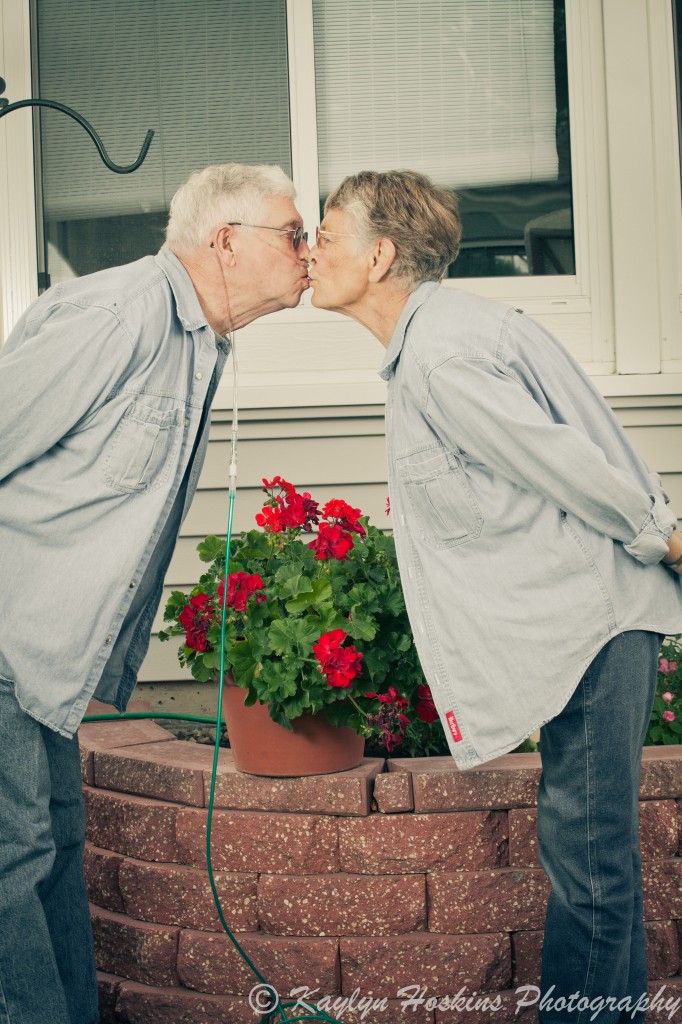 This shot (above) was all Gramz.  She had this idea for a shot that we took out back of their home.  I wasn't too certain about this shot because the background wasn't 'photographically perfect', but it turns out to be one of my favorites!  How cute are these two old love birds?!
Crazy Beautiful Love.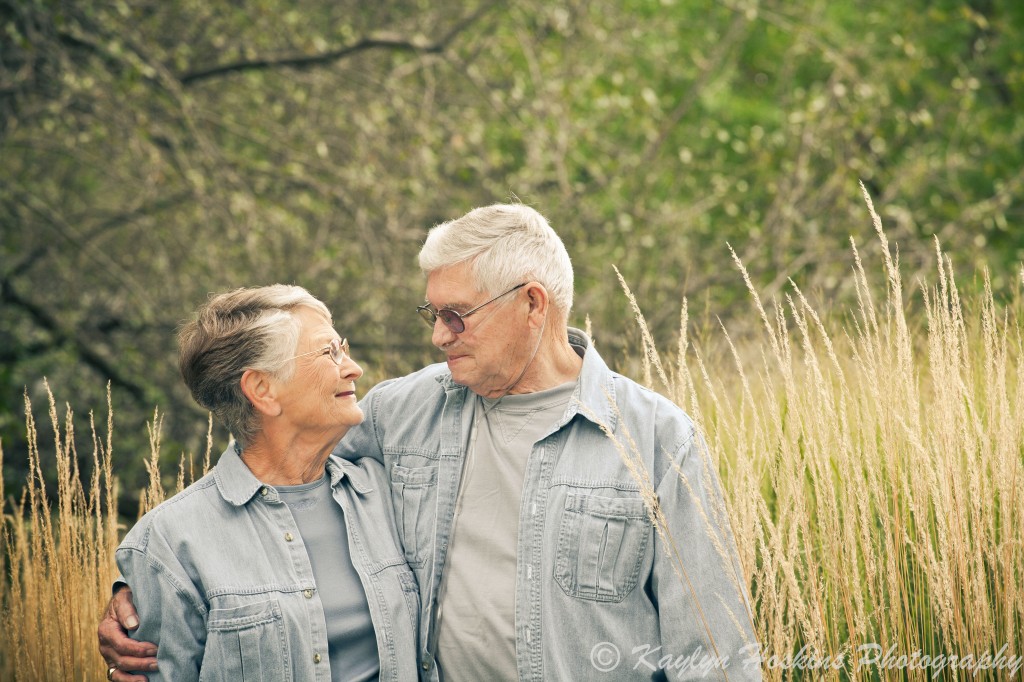 We went over to their neighbor's land as they had a pond and a beautiful backyard.  I often try to get my subjects to look at each other and interact in my photography sessions.  It seems to help people 'forget' about the camera for a moment to get a shot or two.  When I asked Grampz to tell Gramz a secret (as it is a good distraction) Grampz looked at me and in the sweetest voice said  'But, I don't keep any secrets from your Gramz'.  It made tears well up in my eyes.  What a beautiful love to have witnessed, I'm truly blessed!
Crazy Beautiful Love.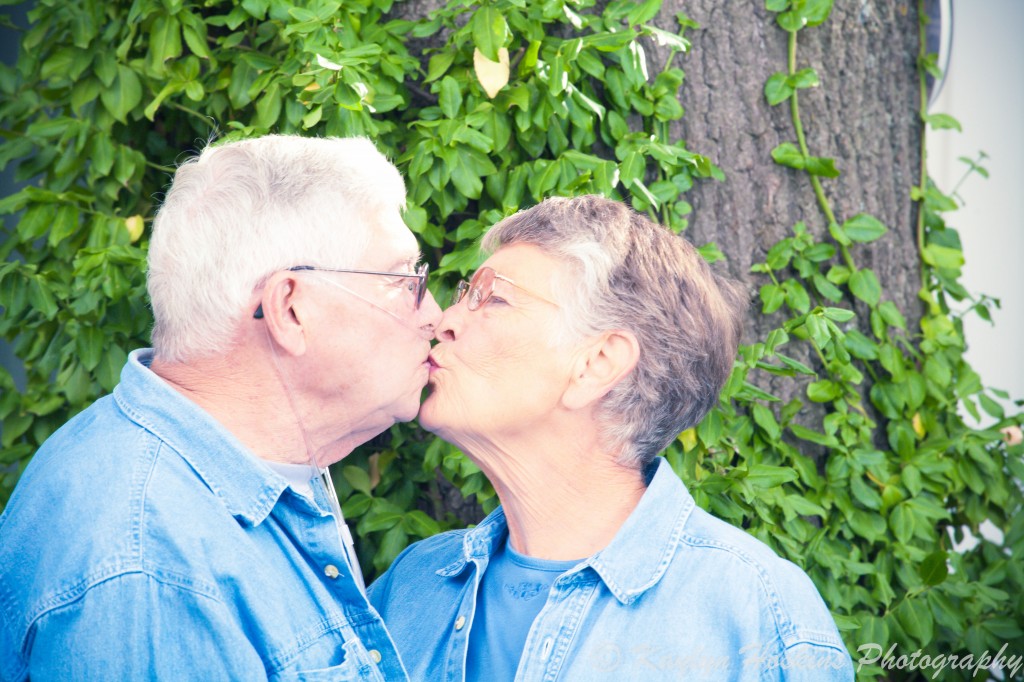 I often as people to 'kiss' during my 'love birds' photo sessions.  This was possibly the cutest kiss I've ever photographed!  Love them so much!!
Crazy Beautiful Love.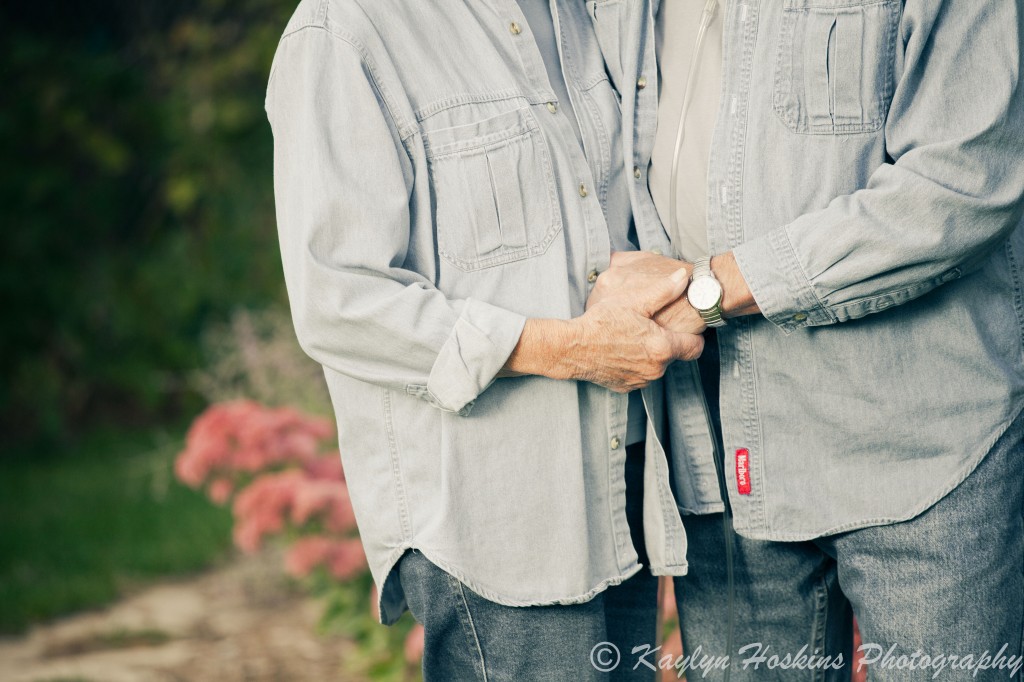 These two old birds (I know Gramz would have been laughing at this…we had so much fun laughing about anything and everything, even ourselves!!) held hands all the time, so I couldn't resist taking this shot.  Sure do love everything about this!!
Crazy Beautiful Love.
This photo was a favorite of my gorgeous Mama's from our session.  This image tells so much, without words.
Crazy Beautiful Love.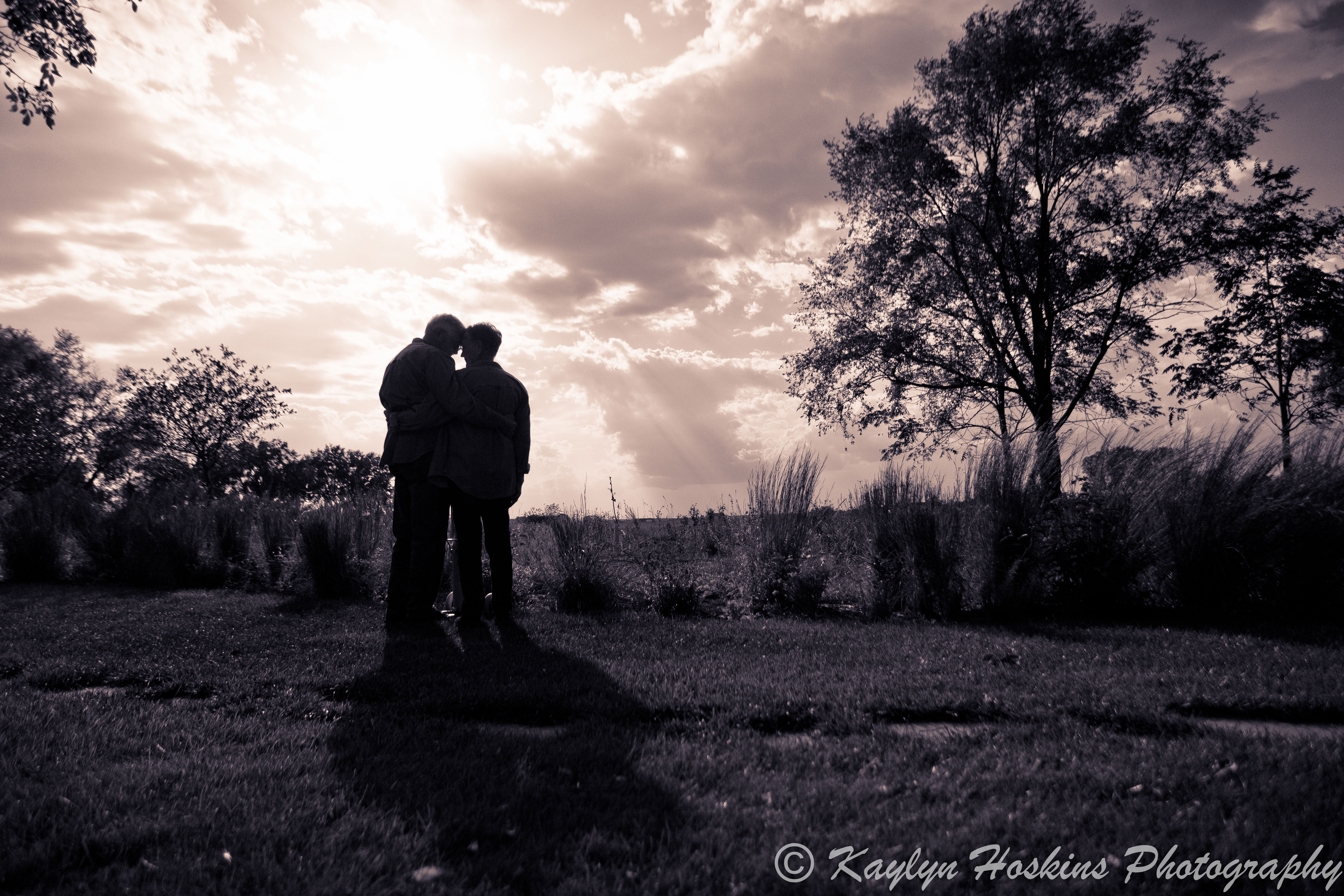 The clouds were magical during this short time we were outside shooting.  TRULY magical!  Even though they weren't excited to be in front of the camera, they sure did a damn good job of making it look like they were old time models!!  😉
Crazy Beautiful Love.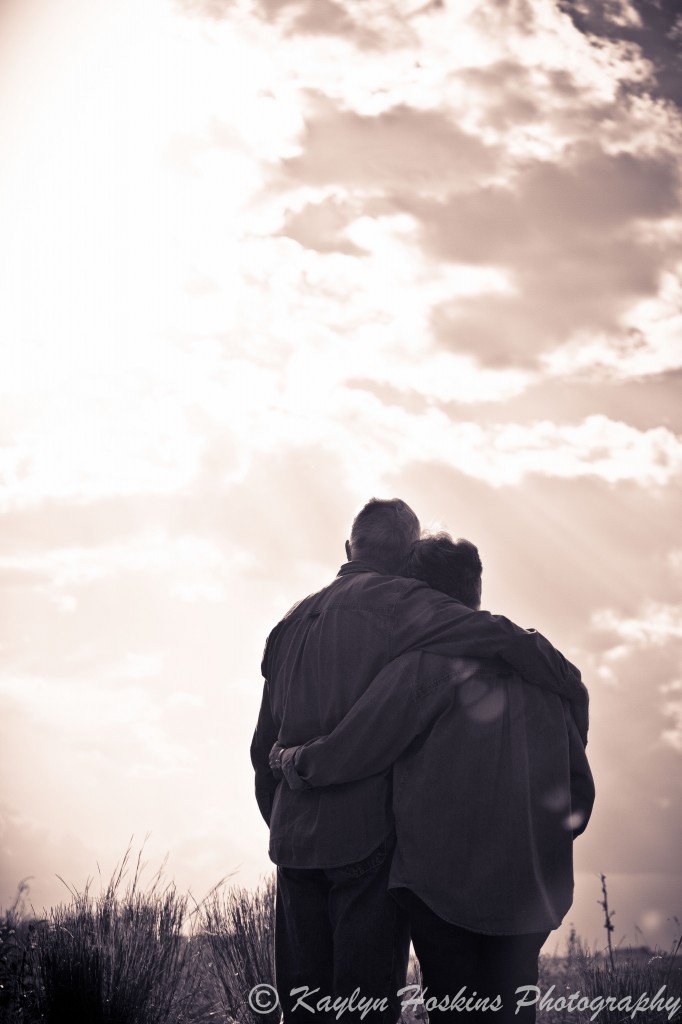 Crazy. Beautiful. Love.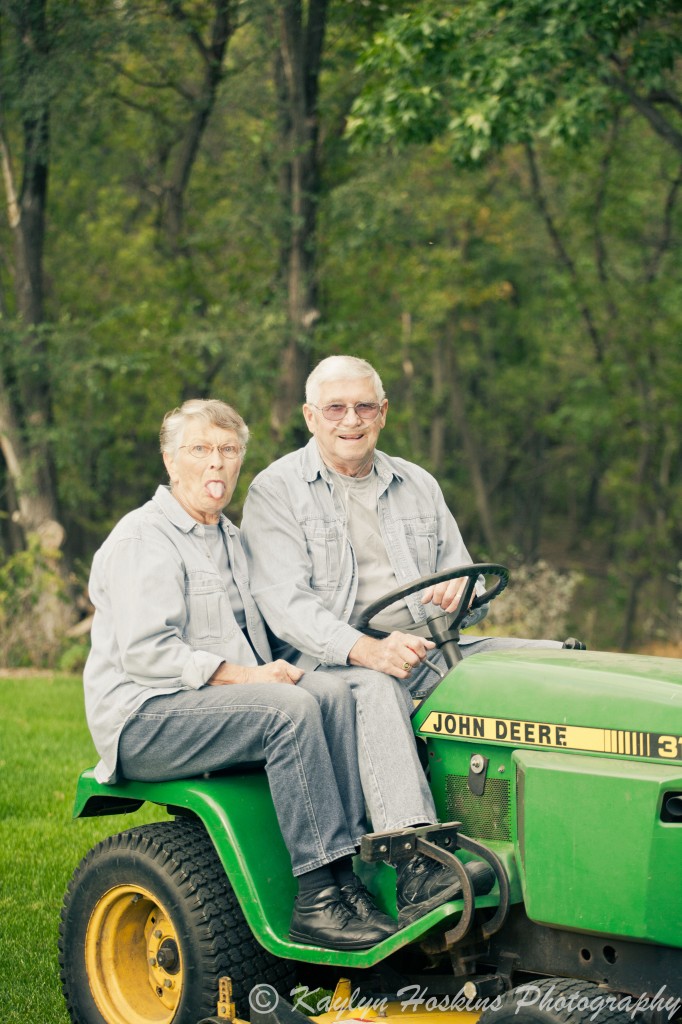 Grampz retired from John Deere in Waterloo, Iowa.  This photo is fitting since they used the Deere to get over to the neighbors for this shoot since Grampz wasn't able to walk any distance without having to stop and take a break.  I believe I stuck out my tongue to get them to laugh and sure enough, Gramz stuck hers back at me!  I LOVE that Grampz is laughing…this makes my soul smile!
Crazy Beautiful Love.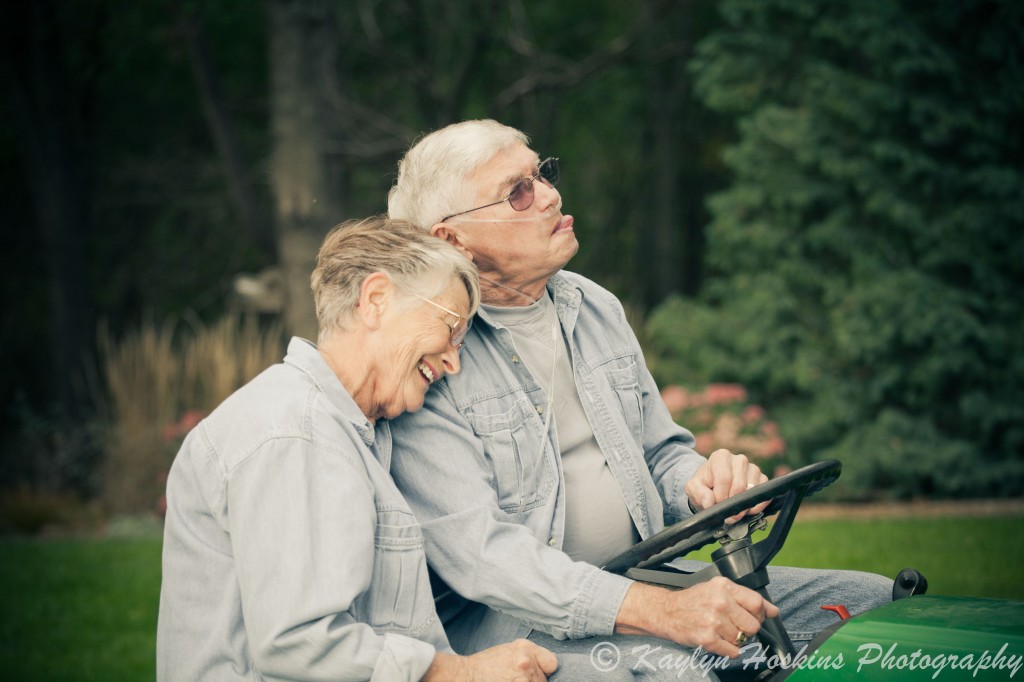 And somehow I managed to get Gramz laughing at Grampz as he was sticking his tongue out!
Crazy Beautiful Love.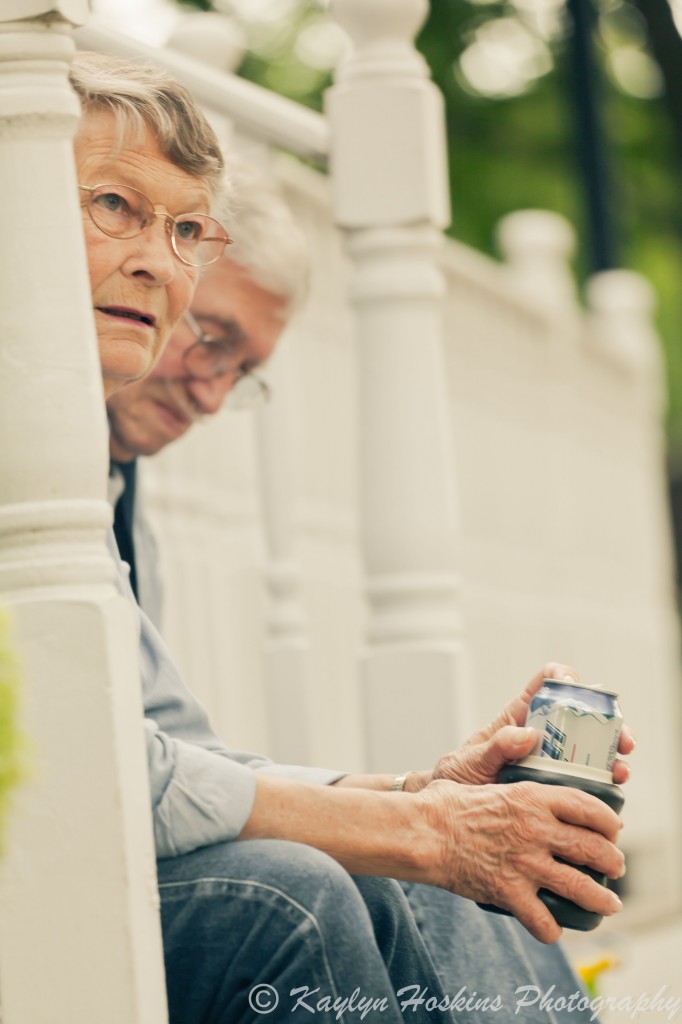 After the shoot was done we went back to their house where Gramz and Grampz enjoyed their nightly Busch Light while they told me and my beautiful niece stories about their lives together.  Priceless moments that I will forever cherish!
Crazy Beautiful Love.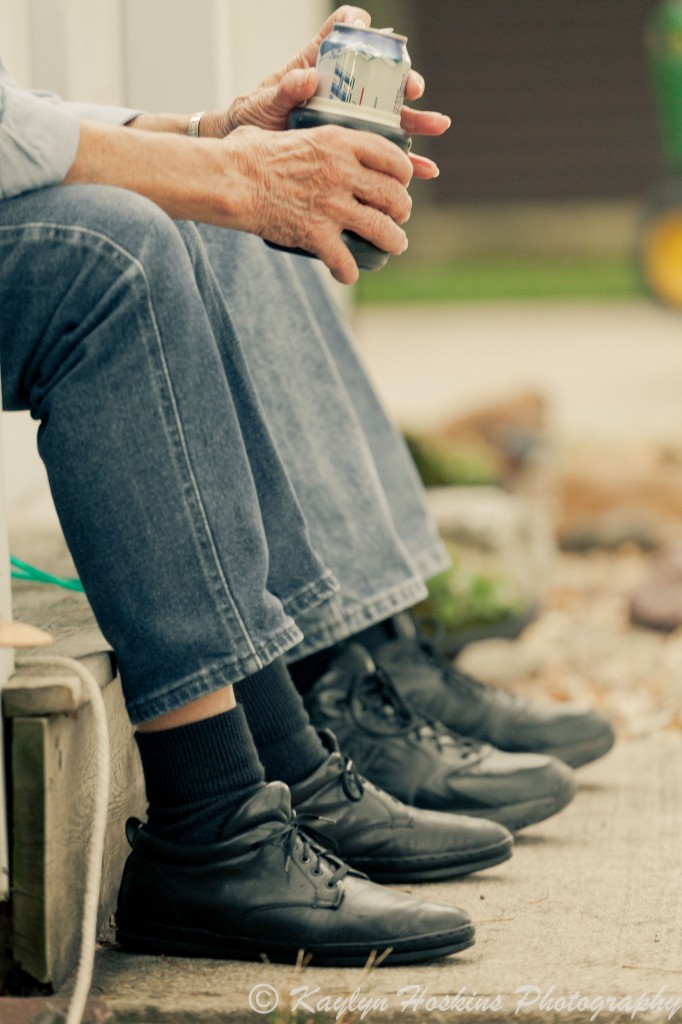 I couldn't get over their matching outfits.  I LOVE that they both wore black socks and black shoes.  I also love hands, as I believe they tell so much about our lives.  These two ole love birds shared a Busch Light most every night.
Crazy Beautiful Love.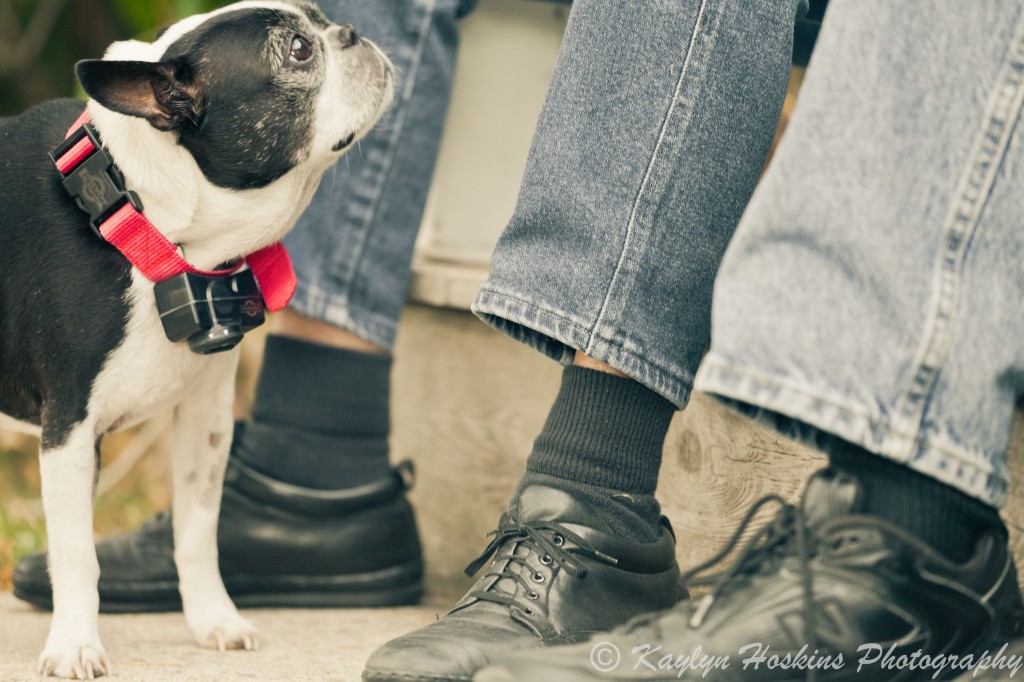 Their dog Midget was the focus of their daily lives so of course I had to get a shot with Midget!!
Crazy Beautiful Love.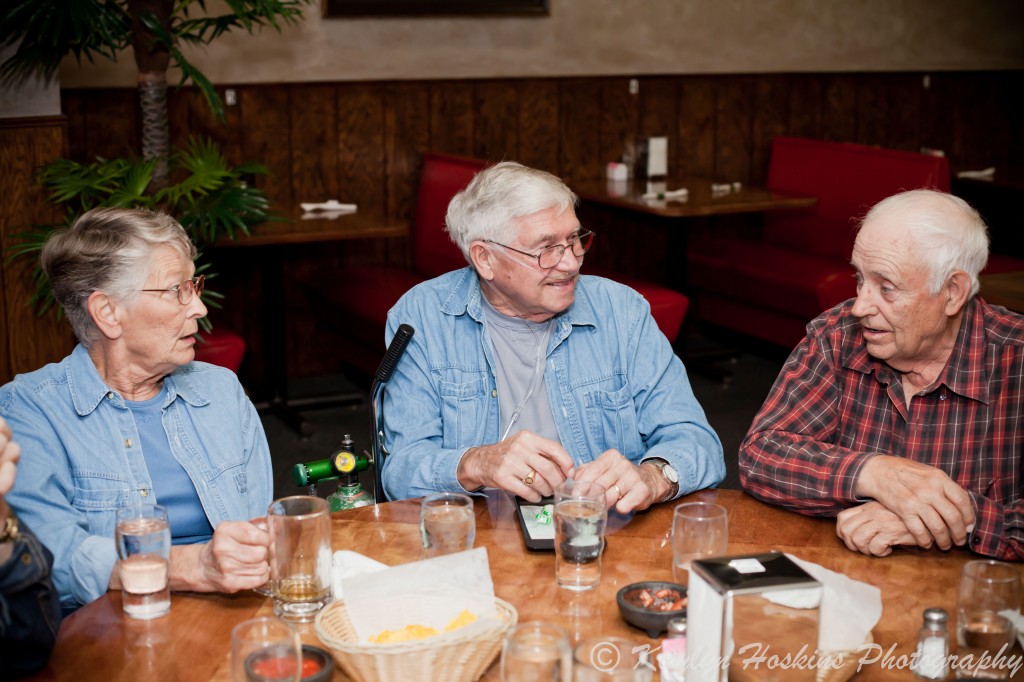 The day we did the shoot it happened to be the day they met for dinner with their lifelong friends.  So I went along to hear all sorts of fun stories and meet their friends.  Notice Gramz has her hand on her beer mug…I think there was a story being told about her by the looks of her face and how Grampz is loving the story!
Crazy Beautiful Love.
So, the moral of this beautiful story is…go tell your parents, grandparents, neighbors, anyone…tell them not to put off getting professional photos taken!  We cherish photos as though they are our memories.  Memories are priceless…as I just shared with you in this short story about
Crazy Beautiful Love.
*Much Love & Golden Light*
~KaYLyN